2. Juni 2019. Prof. Anton Pelinka: "Israel: Demokratie aus der Vielfalt" – Festvortrag anlässlich des Jerusalemtages.
Prof.  Anton Pelinka  absolvierte er an der Universität Wien ein Studium der Rechtswissenschaften, das er 1964 mit der Promotion zum Dr. iur. abschloss.  Anschließend studierte er Politikwissenschaft am Institut für Höhere Studien und Wissenschaftliche Forschung (IHS).
1971 wechselte er als Assistent an das Institut für Politikwissenschaft der Universität Salzburg, wo er sich 1972 beim Sozialphilosophen und Politikwissenschaftler Norbert Leser habilitierte. Von 1973 bis 1975 lehrte er Politikwissenschaften an den Universitäten in Essen und West-Berlin, ehe er 1975 als ordentlicher Universitätsprofessor für Politikwissenschaft an die Universität Innsbruck berufen wurde.
Hier war er von 1976 bis 1986 bzw. ab 1989 Vorstand des Politikwissenschaftlichen Instituts, das er mit aufgebaut hatte, und darüber hinaus von 1987 bis 1989 Dekan der Fakultät für Sozial- und Wirtschaftswissenschaften und von 2004 bis 2006 Dekan der Fakultät für Politikwissenschaft und Soziologie.
Gastprofessuren an ausländische Universitäten, darunter Nehru University Neu-Delhi (1977), University of New Orleans (1981), Stanford University (1997), University of Michigan (2001/2002), Université Libre Brüssel (2002) und Hebrew University Jerusalem (2011/2013 und 2019); außerdem hielt er sich zu Forschungszwecken 1990/1991 an der Harvard University und 1994 am Collegium Budapest auf.
2006 -2018 war Anton Pelinka Professor für Politikwissenschaft und Nationalismusstudien an der englischsprachigen Central European University in Budapest.
Anton Pelinkas Forschungsschwerpunkte liegen auf den Gebieten Demokratietheorie, Politisches System und Politische Kultur in Österreich und der Vergleichenden Parteien- und Verbändeforschung. Er gilt außerdem als Experte für die Themen Rechtsextremismus und Fremdenfeindlichkeit.
Neben zahllosen Artikeln in Fachzeitschriften und der Herausgabe wissenschaftlicher Schriftenreihen schrieb Anton Pelinka rund 40 Bücher zu den Themen Demokratietheorie, Politisches System und Politische Kultur in Österreich, sowie politikwissenschaftliche Nachschlagewerke. Prof. Pelinka erhielt eine Anzahl von Auszeichnungen und Ehrungen u.a wurde er 2010 Ehrenmitglied der Österreichischen Gesellschaft für Politikwissenschaft, erhielt 2013  den Heinz Nittel Award der Österreichisch-Israelischen Gesellschaft und 2015 den Bruno-Kreisky-Preis für das politische Buch des Dr.-Karl-Renner-Instituts (Preis für das publizistische Gesamtwerk), 2015
Von 2018-2023 wird Prof. Pelinka Mitglied des Universitätsrates der Universität Inssbruck sein.
Eine Auswahl seiner Publikationen ist:
Demokratie und Verfassung in Österreich (mit M. Welan) (1971), Sozialdemokratie in Europa. Macht ohne Grundsätze oder Grundsätze ohne Macht? (1980), Parlamentarismus in Österreich (mit R. Nick), (1984), Austria. Out of the Shadow of the Past (1998), Grundzüge der Politikwissenschaft, (2000), Kreisky – Haider. Bruchlinien österreichischer Identitäten (mit H. Sickinger and K. Stögner), (2008), Europa: Ein Plädoyer (2011), Die unheilige Allianz. Die rechten und die linken Extremisten gegen Europa (2015), Die gescheiterte Republik. Kultur und Politik in Österreich, 1918 – 1938 (2017), Wir haben nichts zu fürchten als die Furcht selbst. Europa und die Flüchtlinge (with Heinz Fassmann), (2017)
Und:
Israel: Ausnahme- oder Normalstaat? (Wien: Braumüller Verlag, 2015)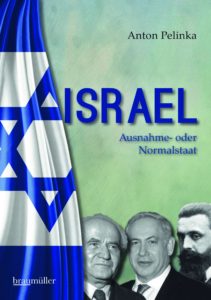 Begrüßung: Peter Florianschütz, Präsident der Österreichisch-Israelischen Gesellschaft
Dieser Abend wurde in Kooperation mit der
Österreichisch-Israelischen Gesellschaft organisiert
Unterstützt von der
Botschaft des Staates Israel
KKL – Austria